Tri-County Aerospace, Inc. (TCA) is a Federal Aviation Administration (FAA) and
European Aviation Safety Agency (EASA) Certified Repair Station.


Our facility is in Miami, Florida USA & is conveniently and centrally located near Miami International Airport.
TCA is a premier leader in the commercial aerospace industry servicing aerospace customers worldwide, providing the highest quality electrical rewinding services. TCA has extensive repair capabilities, provides expert engineering support and maintains an elite staff of qualified personnel.


We maintain full in house extensive repair capabilities allowing us to overhaul, repair and rewind...
...Generators, Rotor Balance Assemblies, Exciter Rotors, Main Stators, Exciter Stators, PMG Stators, & various other "specialty" electrical components for an abundant number of various aircraft platforms including the New Generation (NG) generator components from Original Equipment Manufacturers (OEM) such as Hamilton Sundstrand, Goodrich / Lucas Aerospace and Honeywell.
We utilize state of the art technology to accomplish the services we provide to our customers and we are proud to house an Electron Beam Welding Machine, CNC Vertical Axis Machining Center, and a CNC Lathe.
This highly specialized technology is utilized to accomplish repairs and manufacturing processes on highly complex components.


We pride ourselves in the high quality services we offer to our customer.
Through expertise and skill we are able to provide a cost effective, "one stop service", with reduced TAT. This ensures reduced productions costs while maintaining quality equivalent to the Original Equipment Manufacturer (OEM).

Exchange Program
In order to better enhance our already exceptional Turn Around Time (TAT) and quality repair services for our customers, we have established and maintain an Exchange Program. Our exchange program allows Tri-County to provide our customers free of charge exchanges for several of their most essential electrical components.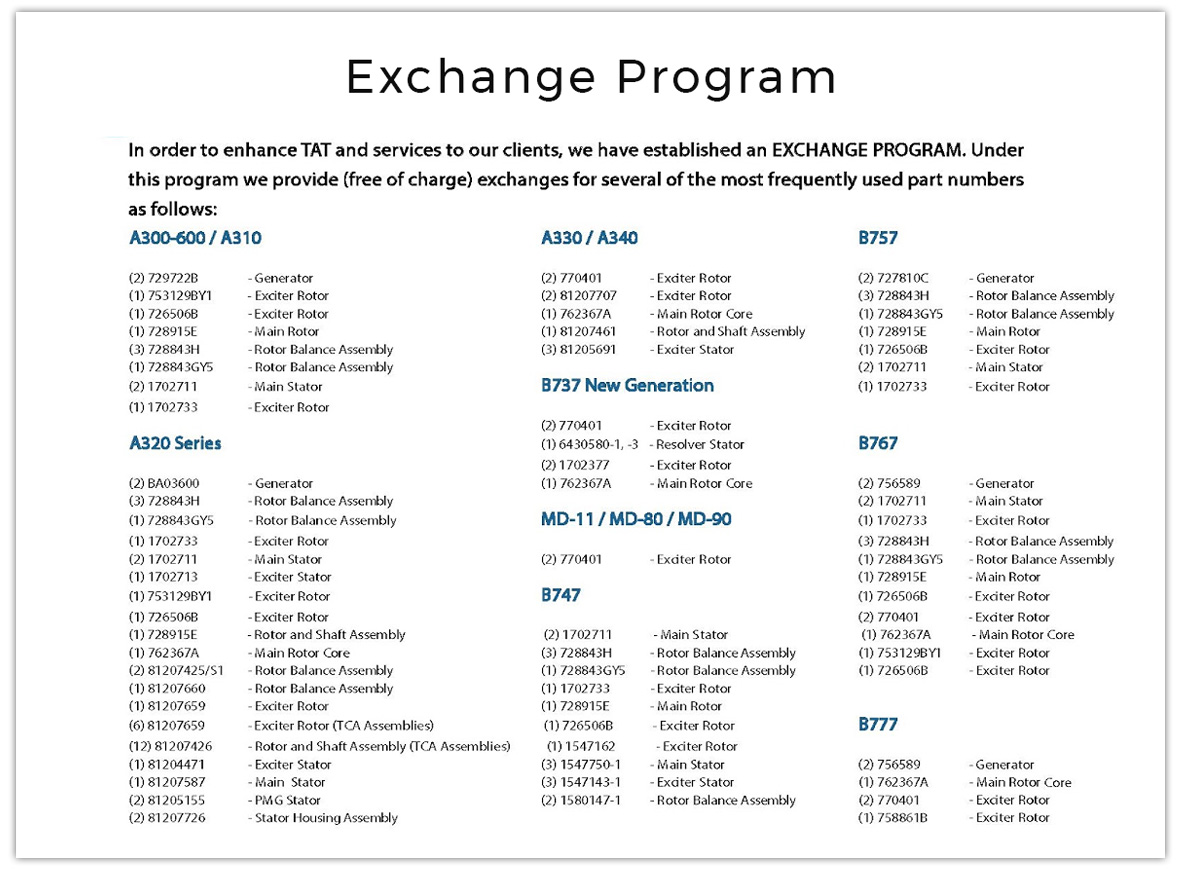 BER PROGRAM

Under this program we specialize in the repair of components
normally returned as BER and TRASHED by other repair stations.